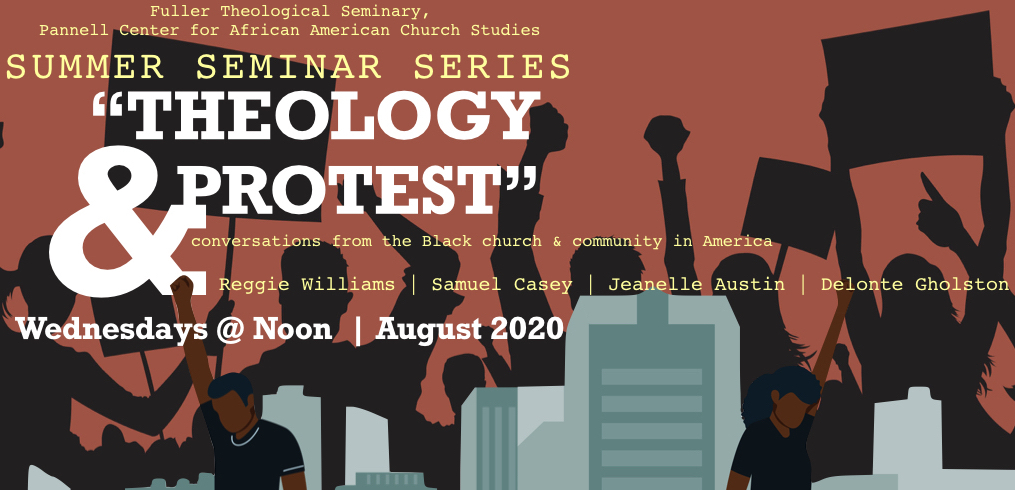 Summer Seminar Series: Theology & Protest
Hosted by
The William E. Pannell Center for Black Church Studies
at Online
Open to the public
Details
The Pannell Center is hosting its annual Summer Seminar Series. Each year a topic impacting the Black church & community is examined from various perspectives. In view of the global Black Lives Matter movement, this year's theme is "Theology & Protest." Black Christians in America often find themselves having to choose between their faith and their cultural identity. Dr. Dwight Radcliff will speak with different African American leaders about the work & thought of protest, and the theology of those who engage it. Join us every Wednesday at noon in the month of August.
Special Guests:
August 5 – Dr. Reggie Williams of McCormick Theological Seminary
August 12 – Pastor Samuel Casey of New Life Church Fontana and C.O.P.E.
August 19 – Director Jeanelle Austin of Racial Agency Initiative
August 26 – Pastor Delonte Gholston of Peace Fellowship Church.
After registering, you will receive a confirmation email containing the Zoom link to join each webinar.
August 26, 2020
12:00—1:30pm
$0
Online registration is required