Fuller Welcomes Christin J. Fort as Assistant Professor of Clinical Psychology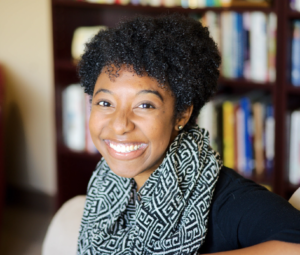 The School of Psychology & Marriage and Family Therapy welcomes Christin J. Fort as assistant professor of clinical psychology. A Fuller alum (MAT, PhD), she specializes in the integration of clinical psychology and biblical theology.
Prior to her appointment at Fuller in November 2022, Dr. Fort was a tenure-track faculty member at Wheaton College (IL) where she served as the director of integrative dialogue in the School of Psychology, Counseling, and Marriage and Family Therapy. She was the recipient of Wheaton's Junior Faculty Achievement Award in 2022.
As a scholar heavily invested in understanding the "why" behind the "what" of the human experience, Fort's research and publications focus on theoretical and qualitative research methods. As an African American woman of enslaved descent, her scholarship, research, teaching, preaching, and clinical practice lie at the intersections of faith, race, emotional health, and relational wellbeing.
Her work in these areas is regularly highlighted in her column on "Justice in Teaching, Research and Practice" in the Journal of Psychology and Christianity, where she serves as an associate editor. She is the author of a range of academic articles published in journals such as the Journal of Psychology and Theology, Pastoral Psychology, and the aforementioned Journal of Psychology and Christianity.
In conjunction with her academic vocation, Fort is also deeply committed to her work as a practicing psychologist. As a clinician, her work with individuals, couples, and families focuses on matters of faith, race, gender, sexuality, and interpersonal and intergenerational trauma from systemic and psychoanalytic perspectives. She believes her clinical practice keeps her academic work and scholarship grounded in lived experience and inspires her to continue to build bridges between research, teaching, and practice for the sake of the church and society as a whole.