FULLER Wins Multiple Top 2020 Evangelical Press Association Awards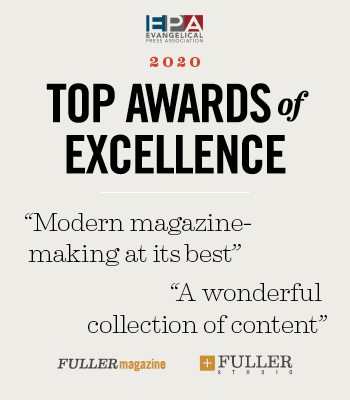 The Evangelical Press Association held its 2020 awards on April 21, and Fuller walked away with multiple wins. FULLER studio's website won the top Award of Excellence in the Higher Education (Digital) category, while FULLER magazine won the top Award of Excellence in the Higher Education (Print) category. The magazine also placed fifth in the Photography Use category and third in the Publication Design category, with judges noting they had never before ranked a seminary so highly.
One judge described FULLER studio as a "wonderful collection of content," and said that "in identifying the best digital publication or content-rich website that is the official voice of a college, university, or seminary. . . it rises to the top."
On FULLER magazine, a judge noted, "Strong storytelling delivered through moments, anecdotes, and telling details and bolstered by expertise. I applaud the incorporation of languages beyond English, the thoughtful treatment and space for multiple viewpoints on important topics, and the allowance for strong images to play a role in the storytelling."
Another wrote: "Modern magazine-­making at its best. A visual stunner that also delivers important stories told well."
FULLER studio has been honored by EPA awards for three years in a row and is proud of its role in helping share Fuller's story with the wider public.
Celebrating its fourth anniversary—since its April 2016 launch marked with the Bono and Eugene Peterson: THE PSALMS project—FULLER studio has now amassed nearly 45,000 subscribers, almost 2 million website visits from over 866,000 individuals representing 229 countries, 2 million video views, and 159,000 podcast plays. FULLER studio began in order to make free resources from Fuller available to those interested in a deeply formed spiritual life. The magazine and studio feature our outstanding faculty alongside a wider circle of Fuller friends and alumni from around the world, and is guided by the vision of an editorial advisory board composed of faculty and senior leadership. FULLER studio engages with deep theological material guided by Fuller's institutional vision. Through these digital and print platforms Fuller offers a wealth of theological resources to individuals, small groups, and large communities of the wider church that the institution exists to serve.
To explore free resources for a deeply formed spiritual life, visit Fuller.edu/Studio.