Eugene Peterson, the widely influential pastor and author best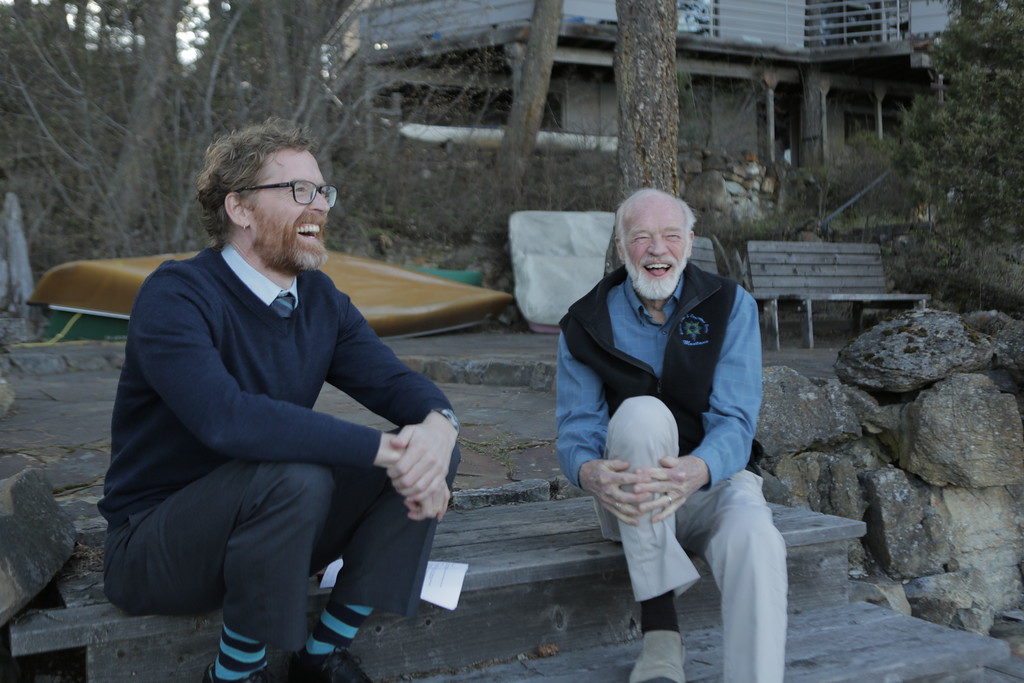 known for his biblical translation The Message, passed away on  October 22, at the age of 85. "The lantern that has been burning brightly on the shore of Flathead Lake all last week—a sentinel witness to the life-light of Eugene H. Peterson—was extinguished today . . . after Eugene took his final breath and commended his spirit to Christ his creator, his beautiful savior, and the forever lover of his soul," read a statement released by his family.
Eugene Peterson's special connection to the Fuller community came when David Taylor, director of Brehm Texas and assistant professor of theology and culture, brought him together with U2 front man Bono for a discussion that resulted in the widely viewed film Bono and Eugene Peterson: The Psalms, released in 2016. Some members of the Fuller community, including Dr. Taylor, offer remembrances below.
President Mark Labberton:
Eugene Peterson is a person whose life and ministry have affected many of us in such potent, enduring ways. He brought us many, many gifts, but one of the most important was the language of faith—which for him was not a verbal language; it was ultimately a language of action. As a pastor, as a leader, and as a teacher, for him it was mostly about character; it was about how you extend the compassion and love and mercy of Jesus Christ in a language that the people you're with can understand. He gave himself to verbal language because he believed that was just one of the ways we can use to manifest the character and love of God to the world. We at Fuller give thanks for this great person of faith and scholarship and pastoral ministry. We give thanks for his willingness to go to great lengths over long periods of time to represent in his own life, work, and ministry the truth of the gospel—and for the ways in which his retranslating of the Bible, and speaking through so many other books, will further reinforce that truth for a long, long time to come.
Marianne Meye Thompson, Dean of the School of Theology and George Eldon Ladd Professor of New Testament:
I don't know when I first encountered the writings of Eugene Peterson. But, once I did, I got hooked. I found in Peterson's writing a wonderfully enriching blend of theological reflection, honest spirituality, creative engagement with Scripture, and a delightful sense of humor. I read his pastoral trilogy (Five Smooth Stones for Pastoral Work, Working the Angles, and Under the Unpredictable Plant). I especially appreciated the last book, and regularly read portions of it to my classes, especially my class on exegetical method. Now, a class that focused on text criticism, syntax and grammar, and exegetical skill in interpreting the New Testament might not have struck one as a place to read excerpts of works of pastoral theology. But Peterson's thoughtful prose was enthralling, humorous, and on target. Here was someone who genuinely loved the Scriptures (including the biblical languages!), his congregation, and God. His writing breathed his love for each and all of them, and somehow he brought them together in ways that made me say, "I want to love like that." I think, then, that Peterson made the biggest impact on me in terms of the kind of person he thought it important for a pastor to be. More, he showed us a way of living with honesty, guts, and passion before God and God's people. That's a picture worth hanging onto.
David Taylor, Director of Brehm Texas and Assistant Professor of Theology and Culture:
In 1996, I took a course with Eugene Peterson titled "Biblical Spirituality." It was a remarkable exposition of Scripture as it intersected church history, literature, Greek mythology, poetry, and other things Eugene seemed to be interested in at the time. Not once, however, over the course of that class did he offer practical ways to enact his vision. This frustrated me. What was I supposed to do with all this wisdom? At the end of our last class, I raised my hand. "Dr. Peterson, this has been a really rich experience, but I have no idea what to do with it. Would you mind telling us one thing we could do?"
After thinking for a moment, he gave me a deceptively simple answer. He said, "David, tomorrow, read Psalm 1. The next day, read Psalm 2. The day after that, read Psalm 3. And when you get to the end, start over. Thank you very much and have a good night, everyone."
So that's what I did: I adopted his suggested practice. After a couple of years, it began to change the way that I saw the Psalms. It also changed my own practice of the Christian faith. The Psalms have saturated my life: my sense of self, my thinking, my understanding of God and of worship and of Scripture.
After being a fan and a student, I eventually become a friend of Eugene's. It happened slowly: through a shared experience at a Laity Lodge retreat, an occasional exchange of letters, a community of kindred friends, and eventually through a film project that brought Eugene and singer Bono together to discuss—what else?—the Psalms.
The legacy of Eugene's life and work is vast. He encouraged an entire generation of pastors to slow down and be present to their lives, so that they can help their people slow down and be present to their lives—as a space in which God might make them more deeply human. For lay people, he showed most vividly, through his books and sermons, how the imagination was a way to get inside the truth, how metaphor was a way through to the true knowledge of God, that praying isn't being nice before God, and that the good news of Jesus is for everybody, no matter who you may be. For me, among all the gifts he has given me over the past 20-plus years, it's his joy that will remain the gift that shapes me most deeply. Hearing the news of his passing, I found myself weeping—not just with sadness, but with joy, because I know that his joy is being made full and he would want us to share in it, too.
Read a full, personal reflection on Eugene Peterson's life from David Taylor on his blog.