Fuller Seminary mourns the loss of Lloyd John Ogilvie, who passed away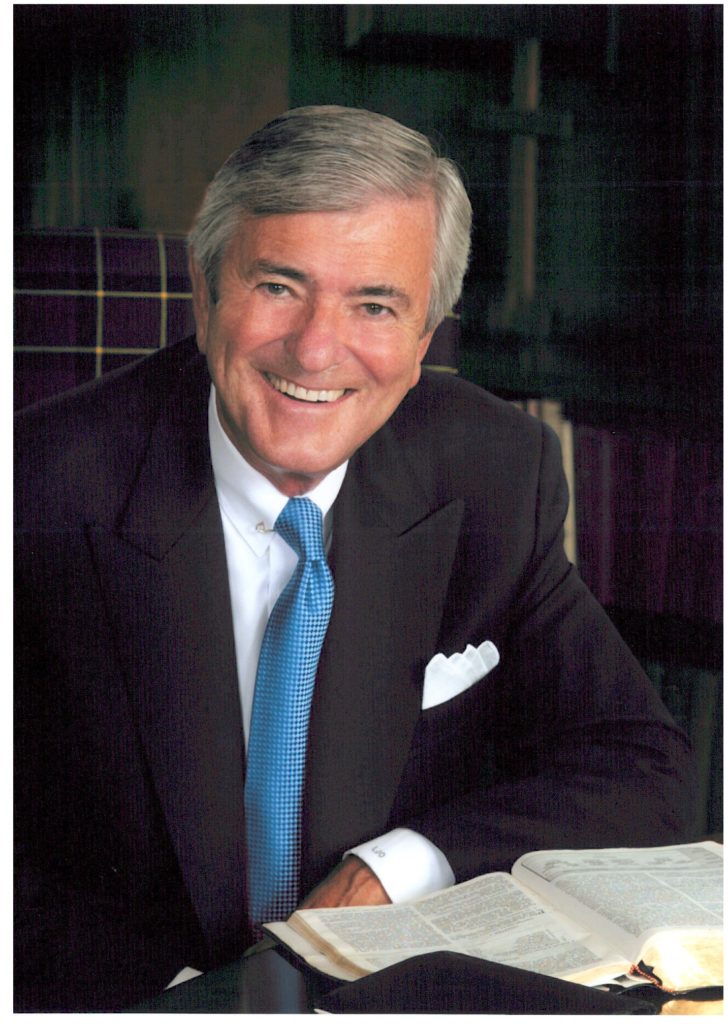 on June 5, 2019, at the age of 88. A widely respected longtime pastor, speaker, author, former Chaplain of the US Senate, and founder of Fuller's Lloyd John Ogilvie Institute of Preaching. Dr. Ogilvie impacted millions with guidance that was spiritually empowering, ethically grounded, and always deeply rooted in his Christian faith.

"Dr. Lloyd John Ogilvie was a lover of God and people, a leader of leaders, a friend in ministry to countless, ever a Scot, a prolific writer and editor, a knee-worn man of prayer, a joyful encourager, and renowned as a meticulously prepared, vocally remarkable, and spiritually expectant preacher," says President Mark Labberton. "To have been the first to occupy the Ogilvie Chair of Preaching and to lead the Ogilvie Institute of Preaching at Fuller was a true honor to me. I join the many who will miss him. Let's pray for his widow, Doris, and his whole family."
Throughout his ministry Ogilvie was known as a "leader of leaders," devotedly offering care, encouragement, and support to leaders in ways that multiplied exponentially. "Lloyd Ogilvie welcomed me as a pastor on his church staff and believed in me when I had little more than brash enthusiasm," says Tod Bolsinger, now vice president and chief of leadership formation at Fuller. "His words were the prayer that ordained me to the gospel ministry. He gave me the charge that shaped my entire vocation: to combine scholarship and church ministry in raising up the next generation of Christian leaders. My life and vocation were unmistakably formed by the words, example, life, and faithfulness of this pastor-preacher."
Born and raised in Wisconsin, Ogilvie earned his BA at Lake Forest College and ThM at Garrett Theological Seminary, both in Illinois, and pursued postgraduate studies at New College of the University of Edinburgh in Scotland. Beginning with his ministry as pastor of Winnetka Presbyterian Church in the Chicago area (1956-1962), he developed a deep appreciation for the impact of leaders on society and their need for sensitive pastoral care, cultivating a small group strategy to support them and their families. This emphasis continued in his next pastorate, of First Presbyterian Church in the steel industry town of Bethlehem, Pennsylvania (1962-1972), and then in his 23 years (1972-1995) as pastor of First Presbyterian Church of Hollywood, in California. During his years at that church Ogilvie also offered a nationally syndicated radio and television ministry called "Let God Love You"—a popular weekly television broadcast that ran for 17 years and daily radio broadcast for 10 years.
In 1995 Ogilvie was elected the 61st Chaplain of the United States Senate, a responsibility he carried out with excellence for eight years. In addition to opening the Senate each day in prayer, he counseled senators and their families, met with them about spiritual and moral issues, led and participated in multiple Bible study and prayer groups, and encouraged the weekly Senate Prayer Breakfast. "I saw my role," he said, "to be an intercessor for the members of the Senate family, a trusted prayer partner, and a faithful counselor to them as they sought to know and do God's will in the monumental responsibilities entrusted to them."
From 2003 on, as president of Leadership Unlimited, Ogilvie was often called upon to serve as a speaker, writer, and resource consultant. He was a motivational speaker at many business and professional gatherings, led "Preaching with Passion" clergy conferences, and frequently preached or spoke at churches, retreats, and other events.
"He walked with kings and never lost the common touch," says Bishop Kenneth Ulmer, senior pastor of Faithful Central Bible Church in Inglewood, California. "He taught with the intellect of a scholar and prayed with the passion of a pastor. He was my mentor, my colleague, my dear friend. Lloyd John Ogilvie was a gift to the world."
In 2006, with Ogilvie's support, Fuller established the Lloyd John Ogilvie Institute of Preaching, offering resources that empower preachers to seek justice and lead others to join God's mission in the world. Along with conferences and online resources, the institute launched Micah Groups—small, interdenominational groups in which ministry leaders can receive mutual support and encouragement to work toward justice and reconciliation in their communities. As of today, more than 1,000 leaders have been part of a Micah Group.
A prolific writer, Ogilvie authored over 50 books and was general editor of the 33-volume Communicators Commentary of the Bible. His numerous accolades include being recognized by Baylor University as one of the "Twelve Most Effective Preachers in the English-Speaking World," as well as receiving nearly 20 honorary degrees from distinguished institutions.
"Lloyd was truly a man of God," says Tim Dearborn, former director of Fuller's Ogilvie Institute. "He exemplified bold humility and rich wisdom, and was always an evangelist for the whole gospel—calling people to deeper trust in God and greater pursuit of justice in the world. Lloyd's warm love, humble graciousness, and prophetic insight were inspiring to me as they were to countless others."
Says Jennifer Ackerman, current director of the Ogilvie Institute: "Lloyd John Ogilvie's ministry reach has been boundless, and will no doubt continue to live on through the countless lives touched by God through his voice, heart, and spirit. A highlight in my work has been meeting many of these very lives who recount with shining eyes the baptisms, marriages, personal conversations, and other treasured moments with Dr. Ogilvie that have continued to resonate even decades later. They would surely join me in affirming, 'Well done, good and faithful servant, well done.'"