Robert P. Meye, dean emeritus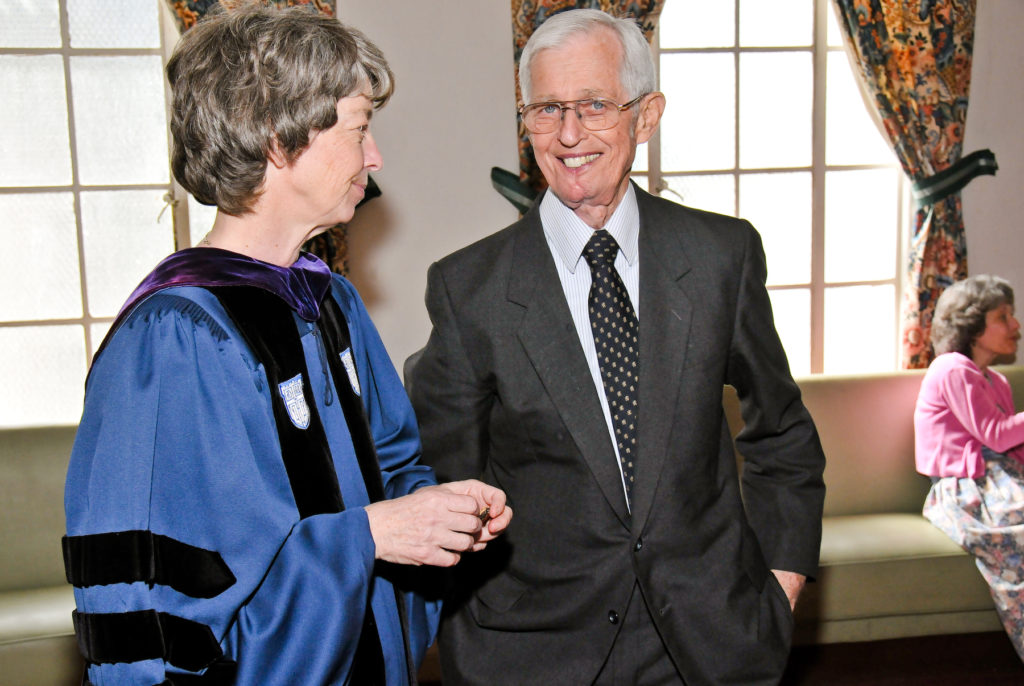 and professor emeritus of New Testament interpretation at Fuller, passed away in the afternoon of Sunday, August 9, 2020. We are grieved to lose this brother in Christ and father of our colleague Marianne Meye Thompson, but grateful to have known him and been witnesses to his indomitable, Christlike life.
"Bob Meye was a powerful and abiding inspiration to all who knew him," said Fuller President Mark Labberton. "He was committed to Fuller's evangelical tradition and mission, a champion of the faculty and students of the Seminary, and a dedicated follower of Jesus Christ. Among much else, it was Bob's humble radiance and keen thoughtfulness for which we are in his debt." 
Dr. Meye came to Fuller in 1977 and served as professor of New Testament interpretation, dean of the School of Theology, and associate provost for church relations and Christian community, retiring in 1992.
Meye was raised on a small farm in Oregon by committed Christian parents. They attended a rural Pentecostal church, which was born a generation prior out of a home fellowship of Roman Catholic immigrant families influenced by the 1906 Azusa Street Revival, and at around age ten, Meye was baptized after experiencing his own spiritual awakening. His parents offered him a consistent model of evangelism and service through Bible distribution, prison outreach, and ministry to the poor and elderly. Watching their example and listening to evangelical radio broadcasts by Walter A. Maier and Charles E. Fuller—founder of the seminary he would later call home—Meye grew in his faith.
Meye attended Stanford University in 1947, where he was involved in the Naval Reserve Officers Training Corps (NROTC) and InterVarsity Christian Fellowship. He said InterVarsity challenged him to "think Christianly in a vigorous new way," and he participated in Bible studies, prayer groups, social justice outreach, and evangelism through the campus fellowship. In addition, he led Bible studies on his ship during summer cruises with NROTC. 
After graduating in 1951, Meye became a Navy officer and continued in Christian leadership as acting chaplain of his unit during the Korean Conflict. Whenever his ship was at port, he visited orphans and participated in other missionary activities. These experiences drew Meye into the realization of a lifetime call to ministry, and after three years of active duty, Meye decided to attend Fuller Seminary, where he knew the evangelical fervor of Charles Fuller still burned.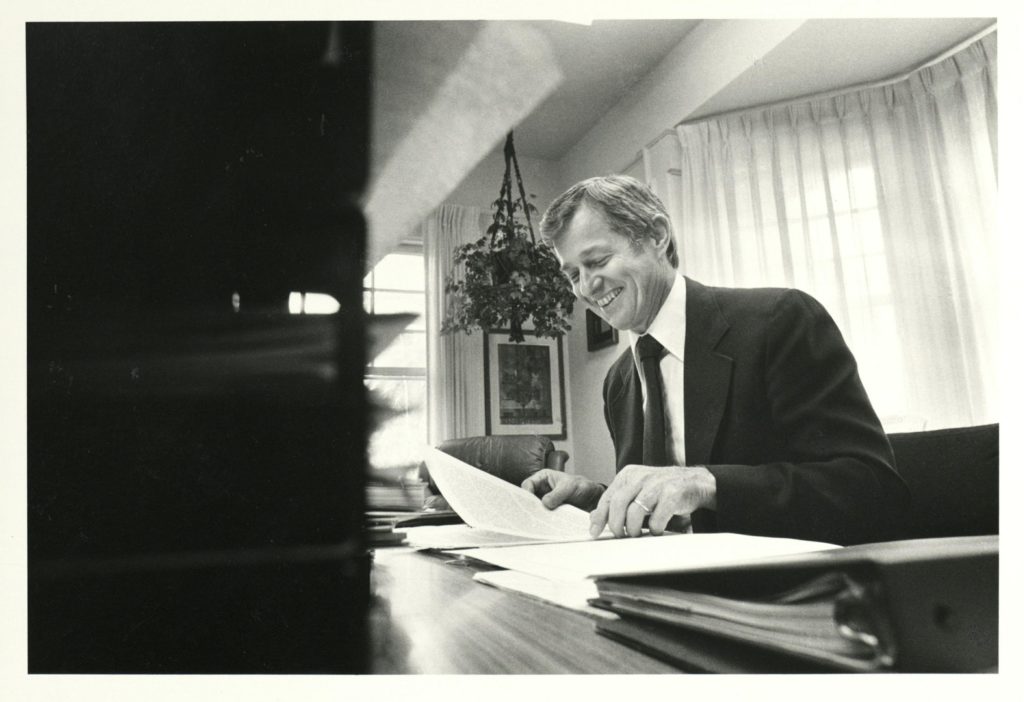 Meye completed his BD in 1957 and then continued in Fuller's ThM program to focus on New Testament studies, receiving a fellowship in Greek and serving on the honor committee. After finishing his ThM in 1959, Meye spent three years at the University of Basel in Switzerland to prepare for a vocation in academia. He studied under such professors as theologian Karl Barth and graduated magna cum laude with a DTheol in 1962. Meye began a 15-year teaching career at Northern Baptist Theological Seminary that fall, later serving as dean from 1971 to 1977 and as acting president from 1974 to 1975.
In 1977, Fuller's then-provost Glenn Barker persuaded Meye to return to Fuller as professor of New Testament interpretation and dean of the School of Theology. Meye later had the privilege of seeing his daughter, Fuller alumna Marianne Meye Thompson, return to the seminary in 1985 as the first female faculty member specializing in biblical studies. Thompson continues today as George Eldon Ladd Professor of New Testament Interpretation, and her husband and Meye's son-in-law, John Thompson, also a Fuller alumnus, served on the faculty as well until his retirement in 2019. This strong Fuller association continued to run in Meye's family: Meye's son, daughter-in-law, wife's twin sister and her husband, and three nephews are also Fuller alumni.
After serving as School of Theology dean for 13 years, Meye moved from that post in 1990 to become associate provost for church relations and Christian community. In 1992, after courageously facing four trying battles against oral cancer, he retired from both administrative and professorial duties. Even with his health concerns, however, he remained an enthusiastic part of the seminary community after his retirement. 
Meye published two books, Jesus and the Twelve: Discipleship and Revelation in Mark's Gospel (1968) and Studies in Old Testament Theology: Historical and Contemporary Images of God and God's People (co-edited, 1992). He authored chapters in Birth Control and the Christian (1969), Unity and Diversity in New Testament Theology (1978), and Saved By Hope (1978), and was a contributor to several other works, including The International Standard Bible Encyclopedia (1979), Tending the Burden: Essays on the Gospel and the Earth (1987), and Christian Education's Handbook on Spiritual Formation (1994). Meye also wrote numerous articles in scholarly and popular periodicals, including Biblical Research, Journal of Biblical Literature, Scottish Journal of Theology, Studia Evangelica, Theologische Zeitschrift, Theological Education, Christianity Today, and Decision.
Meye was for many years an active member of First Baptist Church in Pasadena and, as he describes, a "self-consciously evangelical part" of the American Baptist Churches USA denomination. Eastern Baptist (today, Palmer) Theological Seminary honored him with a DD degree in 1990.
"Jesus said, 'I came that they may have life, and have it abundantly.' I know of no one who better embodied this promise — in spirit, soul, body…and smile — than Bob," said Fuller professor and long-time friend Robert K. Johnston. "And now the God of peace has sanctified him wholly. We have lost a joy-filled friend and Spirit-led mentor."
Meye is survived by his wife of 69 years, Mary; his three children, Doug (Patricia), Marianne (John Thompson), and John (Rolonda); his four grandchildren, Allison Thompson Brown (Daniel), David Meye (Megan), Kristin Meye Steenerson (Justin), and Annelise Thompson; and his two great grandchildren, Axel Steenerson and Emma Rose Brown. Our love and condolences go out to Marianne Meye Thompson, who shared a special relationship with her father here at Fuller.