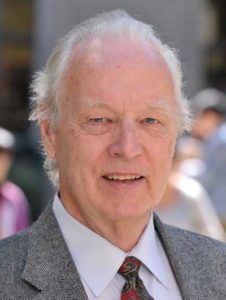 The Fuller Seminary community mourns the loss of Russell P. Spittler, provost emeritus and professor emeritus of New Testament at Fuller, who passed away on Friday, January 20, 2023.
"Russ Spittler played a significant role not only in bringing Fuller into the 21st century, but also in supporting and undergirding the elevation of the seminary's academic profile, so that by the end of the 1990s, Fuller was one of the leading evangelical seminaries in the world," said Amos Yong, dean of the School of Mission and Theology.
Dr. Spittler joined Fuller in 1976 after nine years as professor and dean at Vanguard University in Costa Mesa, California. He served Fuller for 25 years as a New Testament professor and administrator, including, under former president Richard J. Mouw, provost and vice president for academic affairs.
"Russ Spittler was a remarkable scholar and a champion of theological education," recalled President Emeritus Richard Mouw. "He invested a quarter of a century into Fuller Seminary, and he spent his entire life as a dedicated member of the Assemblies of God, and an example of one of the denomination's finest intellectuals. He will be remembered for his vibrant, spirit-filled faith and his commitment to academic excellence."
Spittler was born in Pennsylvania to a phone operator and a utility company lineman, and from birth was raised a Pentecostal in the Assemblies of God. Following high school, he attended the denomination's South Eastern Bible Institute (now Southeastern University), which at that time offered degrees in partnership with the Methodist Florida Southern College. Honored as valedictorian of his South Eastern class in 1953, Spittler completed his AB in religion from Florida Southern the following year, graduating cum laude. He went on to receive an MA in Theology from Wheaton College and a BD from Gordon Divinity School (now Gordon-Conwell Theological Seminary) by 1958, writing theses on both New Testament and American Revivalist norms for the expression of religious emotion.
Spittler took his first teaching post that same year, serving as assistant professor of Bible at Central Bible Institute (since absorbed within Evangel University) in Springfield, Missouri, and as adjunct professor at Concordia Seminary in St. Louis. Additionally, he was ordained by the Eastern District Council of the Assemblies of God in 1961, and from 1960 to 1962, he served as a book editor for the denomination's Gospel Publishing House.
After four years of teaching, Spittler decided to pursue doctoral studies at Harvard University in Massachusetts, where he wrote his dissertation on the Testament of Job, a non-canonical Jewish work from the century before Christ. Among other ministry activities during this time, Spittler joined the U.S. Naval Reserve as a chaplain, and spent a year as director of Christian education for the U.S. Navy Chapel in Los Alamitos, California, ultimately rising to the rank of captain.
Before completing his PhD in New Testament and early Christian origins in 1971, Spittler had already joined the faculty at Southern California College (now Vanguard University) in Costa Mesa, California. He served as associate professor of religion and chair of the Division of Religion from 1967 to 1973, and then became academic dean and professor of New Testament for three years.
"For half a century, Russ Spittler has been a close friend, colleague, and confidant first at Southern California College and later at Fuller," wrote Cecil M. Robeck Jr., senior professor of church history and ecumenics. "Always a friend and mentor to younger scholars, he strongly encouraged them to take seriously their calling to the academy to be also in service to the church. He was a champion of biblical and theological integrity, a first-rate scholar of the Corinthian epistles, and a pioneer pointing the way forward in Pentecostal studies." Robeck continued, "His personal advice for me in 1974, to move from the field of New Testament into Patristics, ended up changing the course of my life by opening me up to the larger world of the church. His longtime friendship gave him a rare, gentle, yet clear, prophetic voice into my life that continues to encourage me in my ecumenical work."
In 1976 Fuller invited Spittler to join the seminary as assistant dean of the School of Theology and associate professor of New Testament. Spittler served Fuller for 25 years in various capacities, becoming associate dean of the School of Theology in 1979, receiving tenure in 1985, and founding the David du Plessis Center for Christian Spirituality that same year. Spittler played a vital role in preserving seminary history as the project director for the Fuller Seminary Archives Project, which received a federal grant from the National Historical Publications and Records Commission (a unit of the National Archive of the United States). While the ten-year project concluded in 1995, Spittler went on to publish a book, Fuller Voices: Then and Now, in 2004, which showcased sermons, lectures, and testimonies important to Fuller's history.
In 1987, Spittler was named professor of New Testament and chair of the Biblical Studies Division of the School of Theology. Having previously served Vanguard University as coordinator of institutional self-study for accreditation purposes, he also took on the role of Fuller's accreditation liaison officer for the Western Association of Schools and Colleges. Spittler served in these roles until 1990 and 1991, respectively, and in 1996 became Fuller's provost and vice president for academic affairs. He retired from this position, as well as his professorial duties, in 2001, though he returned to Vanguard University for four years to serve in an interim capacity as provost and vice president for academic affairs.
William A. Dyrness, dean emeritus (of the former School of Theology), senior professor of theology and culture, and senior administrative colleague with Spittler for the decade of the 1990s, said, "Russ was a dear friend for all my time as dean, but I am especially appreciative of the privilege of serving under him when he became provost. I was always struck by his patience and wisdom as we faced faculty and student crises together. He was a treasured colleague and friend."
In addition to Fuller Voices, Spittler published several Gospel Publications teachers' and students' guides, including God the Father (1961), The Church (1962), The Cults (1962), and First and Second Corinthians (1962). He also authored Cults and Isms (Baker, 1962) and edited Perspectives on the New Pentecostalism (1976). Spittler also co-edited Pentecostal Currents in America Protestantism (1999), to which he contributed the essay "Corinthian Spirituality: How a Flawed Anthropology Imperils Authentic Christian Existence." He authored numerous articles on Pentecostalism, the testament of Job, the Corinthian church, Christian education, and other topics, including regular columns in The Pentecostal Evangel ("Speaking of Books," 1960–1962) and Agora ("Agoraffitti," 1978–1981). Additionally, he served as editor of the Newsletter of the Society of Pentecostal Studies for six years, as well as a corresponding editor of Christianity Today in the mid-1990s.
"Russ Spittler was a true academic leader embodying wisdom, a keen intellect, sincerity, and grace. Students, staff, and faculty all appreciated his welcoming and often humorous presence as provost," said colleague Douglas McConnell, provost emeritus and senior professor of leadership and intercultural studies. McConnell recalled that, at his installation as provost, "Russ offered me Yogi Berra's words, 'When you come to a fork in the road, take it!' Russ Spittler was an authentic witness of Christ's love amongst us."
Known as one of Pentacostalism's best minds, Spittler was a member of the Society of Pentecostal Studies, serving as executive secretary for six years and president during 1973. He was a member of a team of Pentecostal scholars in dialogue with representatives of the Roman Catholic Church's Secretariat for Promoting Christian Unity in 1972 and 1974, and a lecturer at several colleges and universities throughout the years. Spittler also occasionally worked as a consultant for other seminaries. He was a member of the Board of Regents for Melodyland School of Theology in Anaheim, California, from 1974 to 1981, including one year as chair, and he served as member or chair of the visiting accreditation teams of the Western Association of Schools and Colleges and the Association of Theological Schools since 1980.
Pentecostal colleague Veli-Matti Kärkkäinen, who serves as professor of systematic theology at Fuller, summarized Spittler's influence well: "On the one hand is Dr. Spittler's significant decades-long work with the Society for Pentecostal Studies, including a distinguished legacy as one of the pioneers and leaders of academic scholarship related to all-things-Pentecostal-Charismatic across the ecumenical spectrum! On the other hand is his personableness: I met Russ Spittler for the first time as a student in his 1 Corinthians class in the 1980s; subsequently, as the provost at the time, he welcomed me to my current position as professor at Fuller in 2000. Before and after that, his warm presence and wise words encouraged and inspired me over and over again. What a gift of God he was to so many of us!"
Dr. Russell P. Spittler is survived by his wife Roberta "Bobbie" Spittler, and his three children, seven grandchildren, and two great-grandchildren: daughter Cheryl Azlin and family, daughter Heidi Morgan and family, and son Russell W. Spittler and family.
A public Celebration of Life service for Dr. Spittler will be held on Thursday, February 9, at 3:00 pm at the William J. Seymour Sanctuary on the campus of Vanguard University, 55 Fair Dr., Costa Mesa, California.