Fuller Alumna and Faculty Member Cynthia Eriksson Named Dean of the School of Psychology & Marriage and Family Therapy
Fuller Theological Seminary is pleased to announce the appointment of Dr. Cynthia Eriksson as the next dean of the School of Psychology & Marriage and Family Therapy (SoPMFT). Dr. Eriksson's deep understanding of the institution and her unwavering commitment to its flourishing make her an exceptional choice for this crucial leadership role. Dr. Michael Goh, who had previously been appointed as SoPMFT's next dean, was unable to take the position due to personal reasons.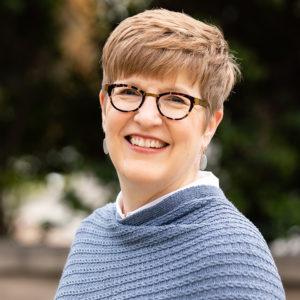 President Goatley expressed his utmost confidence in Dr. Eriksson's ability to lead the SoPMFT: "Dr. Eriksson brings years of successful experience and leadership at Fuller Theological Seminary and enjoys deep respect among faculty, staff, and students. We are confident that she will provide quality leadership as we strengthen our capacity within the School and across the ecology. She has agreed to serve in this role with enthusiasm, and I rejoice in the opportunity to serve with Dr. Eriksson as she leads in this decanal role."
Dr. Eriksson's history with Fuller spans both her educational journey and her professional career. After earning her Bachelor of Arts degree from Wheaton College, she completed an MA in Theology and a PhD in Clinical Psychology at Fuller and then joined the faculty a few years later. This vocational path, first as a student and then as a teacher and administrator, has given Dr. Eriksson a multidimensional experience of the institution's values, mission, and transformative impact.
As a valued faculty member of SoPMFT since 2000, Dr. Eriksson has consistently demonstrated her commitment to academic excellence, mentorship, and the holistic development of students. Her leadership roles within the seminary, including her current position as chair of the Doctor of Psychology (PsyD) in the Clinical Psychology program, have given her up-close insights into the needs and aspirations of students and faculty. Under her visionary guidance as the PsyD chair, the program has experienced remarkable growth, with enrollment more than doubling during her tenure. Further, her dedication to creating a diverse and inclusive community has fostered a vibrant and supportive academic environment. Administratively, her leadership role in successfully securing a 10-year re-accreditation from the American Psychological Association for the PsyD program exemplifies her commitment to academic rigor and excellence.
Dr. Eriksson's range of expertise in trauma and posttraumatic stress disorder, missionary mental health and self-care, chronic stress and burnout in caregivers, and the intersection of spirituality and trauma reactions is highly regarded both within and beyond Fuller. Her extensive international engagement in trauma training, research, and consultation has solidified her reputation as a leader in the field and uniquely positions her to address the complex challenges of our interconnected world.
Chief Academic Officer Alexis Abernethy noted, "I have had the pleasure of co-teaching with Dr. Eriksson for many years. I have witnessed her dedication to teaching, her care for students, and her deep commitment to facilitating their pursuit of their calling as psychologists. Her attention to detail coupled with her vision for SoPMFT to enhance its leadership as a clinical psychology program committed to research, clinical training, and integration that reflects academic excellence and transforms lives makes me confident that she will not only envision the future of SoPMFT, but also effectively implement this vision using a collaborative model."
Dr. Eriksson expressed gratitude for the opportunity to serve as dean of the School of Psychology & Marriage and Family Therapy and remarked, "As we enter a new era of Fuller Theological Seminary, with a new president and a vision for Fuller NEXT, I am excited by the work I see my colleagues doing and am eager to lead in ways that amplify their voices and empower them in their scholarship and teaching."
Dr. Eriksson will begin her service as dean on September 1, 2023.