MA in Global Leadership
School of Intercultural Studies
The Master of Arts in Global Leadership (MAGL)—Fuller's shortest degree—joins years of experience in communal formation with breakthroughs in online education to offer a transformative dynamic of peer leaders sharing life and learning together. Now students can choose our fully online spring cohort or our hybrid fall cohort. Designed for leaders with at least four years of experience in a church, mission, nonprofit, or business role, the MAGL's format supports students in their own ministry context as they study. Rooted in the conviction that a leader's role is to help others come alongside God's ongoing mission in the world, MAGL students grow in their understanding of what God is doing in their own lives as well as in culture and the Scriptures, equipping them to live missionally in their leadership and to influence those around them to do the same.
Online
Fully online spring cohorts; hybrid fall cohorts
Formational
9 sequential courses within a learning community
Flexible
9 electives to tailor your degree to your specific goals
Applicable
Immediately apply your learning to your own context
Study with faculty like these:
DIRECTOR EMERITUS, MASTER OF ARTS IN GLOBAL LEADERSHIP AND DOCTOR OF INTERCULTURAL STUDIES, AND SENIOR ASSOCIATE PROFESSOR OF LEADERSHIP
Explore other members of our renowned School of Intercultural Studies faculty here.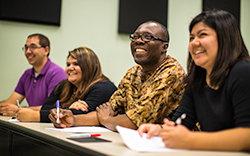 Now with the option of our 100 percent online spring cohort, or our hybrid fall cohort (two, one-week intensives at our Houston campus), the MAGL offers even more flexibility while continuing to balance creative online content with the transformative dynamic of peer leaders sharing life and perspectives with one another. Apply what you are learning directly to your life and ministry as you study in your own context.

"I chose the MAGL program because it is action focused, intimate in its cohort system, and has a world-class network."
– Riley Sewell, MAGL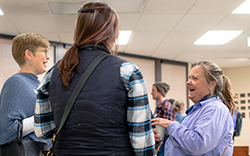 MAGL students progress through the program with the same peer group—or "cohort"—of approximately 25 students, guided by faculty mentors who are experienced scholar-practitioners. Cohort members interact in a dynamic learning community to further sharpen and support one another.
Choose between two great options!

There are no upcoming events in this category.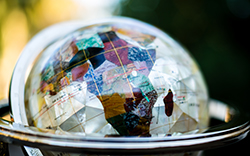 Need-based assistance makes your degree more affordable than you might think. Additional scholarships available to you after your first year can cut your costs even more.
Fuller is now offering the Zawadi Scholarship—from the Kiswahili word for "gift"—available to select incoming MA in Global Leadership students in Fall 2020. This new scholarship will cover half (50%) of tuition each year (for up to four years) for those currently serving, or planning to serve, in Africa.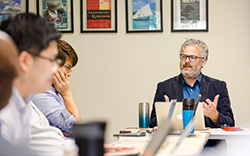 Formational Learning Community
You will sharpen and encourage one another as a cohort—a community of learning—with the guidance of seasoned faculty and support staff. In safe, peer-oriented environments, cultivated online with the option for face-to-face connection, you'll find space for the honest dialogue and mutual care that will help you transform your ministry.
Flexible Degree Plan
Continue in your ministry context as you complete the MAGL—with electives making up half of your program, you can tailor the degree to your unique goals through coursework from any of Fuller's three schools, taken at any campus or online.
Practical, Experiential, and Holistic
As a cohort program that builds on your experience and emphasizes practical application, your ministry and leadership will be strengthened and transformed. As you wrestle with theoretical concepts and exchange input with your cohort peers, you will apply newfound insight to your leadership role and your relationships for holistic formation.
Global Perspectives
Studying with others from around the world, you'll be exposed to global trends and cultural differences—equipping you with the broadened perspective and encouragement to embrace your role as a missional change agent in your own context.
You May Also Be Interested In
MA in Intercultural Studies (MAICS)
Students are equipped for informed intercultural engagement and missional leadership in any context––local or global––with this holistically formational program
The highest credential we offer, the PhD provides students the opportunity to design, develop, and complete a customized research plan.
Office Hours
Monday–Thursday
8 am – 5 pm (Pacific Time)
Friday
10 am – 5 pm (Pacific Time)