Fuller Appoints New Faculty and Expands Commitment to Campuses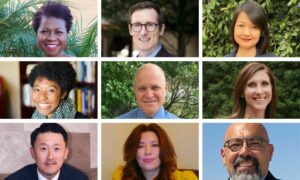 Fuller Theological Seminary is pleased to announce the appointments of nine distinguished faculty members, underscoring the institution's commitment to strengthen its three campuses in Pasadena, Phoenix, and Houston. Each of these outstanding faculty demonstrates academic excellence, community engagement, diversity, and the pursuit of peace and justice. Their expertise and fresh perspectives will further enrich students' educational experience.
President David Emmanuel Goatley expressed his enthusiasm, stating, "We are thrilled to welcome these exceptional scholars and practitioners to our community. Their diverse backgrounds and deep commitment to faith and justice will undoubtedly enhance our educational mission and equip our students to make a meaningful impact in the world."
Alexis Abernethy, chief academic officer, agreed: "The appointment of these distinguished faculty members aligns with our ongoing commitment to fostering transformative learning environments. Their expertise and dedication will further strengthen our programs and equip our students to address the complex challenges of our time."
Fuller Texas, which has experienced remarkable growth, welcomes Wayne Park as the new chancellor. In this pivotal role, Dr. Park will provide visionary leadership to support the seminary's continuing expansion and engagement with the local community. In addition to Dr. Park, Fuller Texas gains two new faculty members, while Fuller Arizona and the main campus in Pasadena each gain three. 
The new faculty members at Fuller's three campuses are:
Phoenix 
Anna Diaz is a Fuller alumna who joins Fuller after receiving her MA in Theology and her MS in Marriage and Family Therapy from Fuller. She worked as a child and family therapist at Christian Family Care. She is licensed as an associate marriage and family therapist by the Arizona Board of Behavioral Health.
Jenny Rasmussen is a Fuller alumna who graduated with her MS in Marriage and Family Therapy. She joins Fuller's faculty after work as a family therapist at Willow House at The Meadows, an inpatient treatment center for women with sex and love addiction and intimacy issues. Jennifer says, "My time at Fuller was such a sweet season in my life. It was a refining, healing, stretching, and empowering three years. I found passions I had no idea were waiting to be discovered! The professors and Fuller team really cared about each of us as individuals. They were for us and I could feel the support and guidance."
Andrea Waddell-Pratt joins Fuller Arizona as associate professor of the practice of marriage and family therapy. In her role as professor, she endeavors to draw on her experience as a practicing clinical psychologist to help students broaden their understanding of therapeutic practice, craft a clinical identity, and develop treatment skills that allow for work with diverse populations. She has served as adjunct faculty in Fuller Arizona's MFT program in Phoenix since 2014. Dr. Waddell-Pratt graduated from Howard University with a BS in Psychology. From Purdue University, she earned both her MS and PhD in Clinical Psychology.
Houston
Collin Cornell, assistant professor of Bible and mission, teaches in Old Testament and missiological hermeneutics at Fuller Texas. His research includes the history of religions and biblical theology, including theology related to mission, race, colonialism, and ecology, and he welcomes inquiries from prospective students and scholarly collaborators in any of these areas. Dr. Cornell is author of two books from Cambridge University Press: Divine Aggression in Psalms and Inscriptions (2021) and Monotheism and Divine Aggression (in production). His current projects explore Bible and mission and the religions of the Hellenistic Levant.
Michael P. Hardin has relocated from Pasadena to Fuller Texas. He serves as a professor of marriage and family therapy. He came to Fuller in 2020 with 16 years of teaching experience at Lubbock Christian University (LCU), in Lubbock, Texas, and over 22 years of experience counseling couples, families, and individuals. Dr. Hardin has partnered with churches by leading marriage retreats and marriage seminars for the past 15 years. He began his employment at LCU in the fall of 2004, chairing the Department of Psychology & Counseling from 2007–2020. In his tenure as department chair, he established the Bullard Institute for Strong Families, and founded the Healthy Families Conference. Prior to joining the LCU faculty, Hardin worked 14 years in supervisory positions in various nonprofit and government agencies.
Wayne Park, chancellor of Fuller Texas and assistant professor of congregational and marketplace leadership, is responsible for overseeing the Houston campus and Fuller's partnerships throughout Texas. In addition, Dr. Park will lead the development of a long-term plan for the role of the Houston campus in the implementation of the seminary's FULLER NEXT strategy. This plan will include degree and course offerings, faculty and staff requirements, facilities, scholarships, and engagement with local communities.
Pasadena 
Peter Altmann joins Fuller as David Allan Hubbard associate professor of Old Testament. Upon completion of his studies at Princeton, he spent six years as an Old Testament/Hebrew Bible instructor and researcher at the University of Zürich (Switzerland). Since 2020 his research has focused on the social and political implications of the divine nature of biblical law for Persian and Hellenistic-period Judean communities. He is nearing publication of an edited volume titled Is It Good to Be Rich? Perspectives from Antiquity and the Bible, and is at work on a jointly written commentary on the book of Numbers (Tyndale) and a co-written volume of essays on biblical dietary prohibitions.
Christin Fort joins the Pasadena campus as an assistant professor of clinical psychology. In this role she specializes in the integration of clinical psychology and biblical theology. Her interdisciplinary passions were first fanned into flame as an undergraduate student at Wheaton College and were later cultivated as a graduate student at Fuller, where she continued to study both disciplines at the doctoral level. As an African American woman of enslaved descent, Dr. Fort's scholarship, research, teaching, preaching, and clinical practice lie at the intersections of faith, race, emotional health, and relational wellbeing. 
Chloe Sun has joined the Fuller faculty as professor of Old Testament and program director of the Chinese Studies Center. Prior to joining Fuller, Dr. Sun served as a faculty member at Logos Evangelical Seminary in Southern California for over 18 years, where she also served as academic dean and in the role of program director. She has published more than 10 books in both English and Chinese. Her first book, Genesis: Beginning with God (in Chinese), is in its seventh printing and her latest, Conspicuous in His Absence: Studies in the Song of Songs and Esther (in English), was a finalist for the Biblical Foundation's Award. Currently, she is working on two commentaries on the book of Exodus and another commentary on Lamentations and Song of Songs.
"We are thrilled to welcome these exceptional faculty members to Fuller," said Ted Cosse, chief operating officer and dean of the School of Psychology & Marriage and Family Therapy. "Their diverse backgrounds and deep commitment to faithfulness, righteousness, and justice will undoubtedly enhance our mission. As we expand our campuses and strengthen our academic programs, we are more determined than ever to equip our students everywhere to become compassionate and skilled leaders who bring hope and healing to their communities and the world."