Amos Yong Announced Dean of SOT and SIS in Historic New Structure
Dear Fuller Alumni and Friends,
Over the past year, I've sent several letters detailing the changes taking place at Fuller and the changes that will continue to occur over the next several years. While some of this is in response to the shifting religious and educational landscape across the globe, the central reason undergirding this transformation is to ensure Fuller will continue forming global leaders for kingdom vocations for the next era of theological education. Each change we make as an institution must be done in the knowledge that our mission to help form women and men to lead in Christ's name through an array of vocations is of utmost importance at this juncture of history. We recognize the urgency of this task and remain dependent on God's sustaining grace and direction as we redesign and redevise Fuller's curriculum so that it is nimble, responsive, and adaptive to the changing needs of our students and the world. This has always been central to the theological ethos of Fuller and will continue to be at the forefront of all our decision making.
For several years, the School of Intercultural Studies (SIS) and School of Theology (SOT) faculties have sought ways to achieve a more coordinated and integrated approach between their respective disciplines and degrees. Various attempts have been made but without sustainable success due to the size and complexities of our faculties. The two faculties even debated the advantages and disadvantages of merging the two schools. This would certainly make coordination easier, but it risked the loss of the rich history of the two separate schools, their alumni, and their supporters. More so, it risked blurring or diminishing the distinctive disciplines of each school. This past January, the Board of Trustees strongly affirmed the need and importance of retaining our three-school structure while also seeking better consolidation and coordination through other ventures.
Ultimately, it was decided to adopt a new structure between the two schools by appointing one dean over SIS and SOT. Under one dean, the coordination and integration of curriculum and degrees in SIS and SOT will be more conducive for student needs and learning and will reduce administrative costs.
As such, Amos Yong, a scholar and practitioner in missiology and theology, has been named the dean over both schools. Associate deans will be appointed in each school to ensure administrative and curricular functions continue according to each school's needs. Provost Mari Clements and I, with the full support of the board, and after careful discussion with the two faculties, have determined this structure provides the strategic cohesion Fuller needs in the next season of the institution's history. We believe this change will strengthen each school's offerings while providing the best learning experience and outcomes for students.
Enough thanks cannot be adequately expressed for Marianne Meye Thompson and the incredible leadership she has administered as dean of SOT over the past two years. Her significant role during this season in Fuller's history cannot be overstated. Gratefully, Peter Lim will continue serving as interim dean of SIS through June 2019, at which time the transition to our new dean over SIS and SOT will occur on July 1, 2019.
Anticipating the faithfulness of God,
Mark Labberton
Speaking from the David Allan Hubbard Library balcony on Fuller's Pasadena campus, President Mark Labberton first publicly announces the board's historic decision, made just the day before, to relocate the seminary—a bold move that will help Fuller retool for a thriving future of expanded theological education.
From Pomona: May 24, 2018
Speaking from the iconic pedestrian bridge in downtown Pomona just after attending the city's Mayor's Prayer Breakfast—where Fuller's relocation was announced and enthusiastically welcomed—President Labberton discusses how Fuller is entering, along with the city of Pomona, a journey of transformation.
Leaning Into the Whirlwind
President Labberton discusses what relocation means for the future of Fuller and broadening the seminary's offerings.
Reflections from the Fuller Community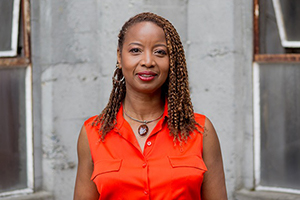 "The graduate theological education I received at Fuller was absolutely life-changing. It prepared me for ministry as a speaker, author, thought leader, and professor of Reconciliation Studies. I am confident that Fuller will continue to prepare men and women from every tribe and nation to address the complex issues facing our world."
—Rev. Dr. Brenda Salter McNeil
Associate Professor and Director of Reconciliation Studies
Seattle Pacific University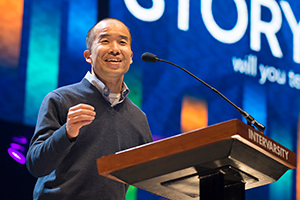 "As I travel and relate to leaders throughout North America and the majority world, my conviction has only strengthened regarding Fuller Seminary—it truly is one of the world's premier institutions in developing leaders for the church. Fuller not only forms students with the truths, values, and character of Christ, but it embodies these things as an institution. I am excited about Fuller's future, as it continually innovates to launch future generations of leaders and effective Christlike witnesses in a fast-changing and increasingly globalized world."
—Tom Lin, President/CEO
InterVarsity Christian Fellowship
Fuller trustee and alumnus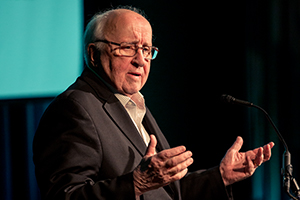 "My first exposure to Fuller was as a visiting professor while I was a faculty member at Calvin College. On one of my visits, the president of Fuller at the time—David Allan Hubbard—spoke about the 'beyond' of Fuller. Fuller existed beyond the mission of academia, beyond the limits of a graduate education. Fuller exists to advance the mission of God across the world. That was when I knew Fuller was a community I wanted to be a part of, and have loved serving for over 30 years. Fuller's relocation is to continue the legacy of beyond."
—Richard J. Mouw
Professor of Faith and Public Life and President Emeritus (1993–2013)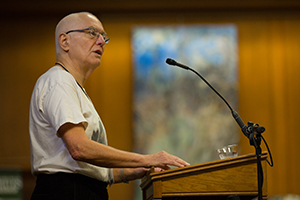 "When I was invited to come to California to join the Fuller faculty, I knew that it was a body of unequaled evangelical scholarship with a mission to shape ministers and missionaries and theologians for the 21st century. I didn't realize how important the work is that Fuller also does in resourcing people to be therapists or musicians or movie-makers who are not merely Christian on Sundays, but who want their Monday to Saturday vocations to be shaped by the Scriptures. I am thrilled to be engaged in this important work."
—John Goldingay, PhD
David Allan Hubbard Professor of Old Testament Emeritus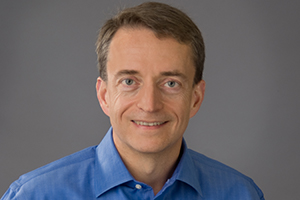 "As CEO of one of the great high-tech innovative companies, I live daily in the need to innovate or die. Fuller has constantly sought to bring an innovative spirit and deep theological scholarship as it equips influencers of all kinds. Fuller has always known how to adapt to shifting needs without losing its biblical grounding—shaping the kinds of courageous, innovative, and faithful evangelical leaders we're going to need more than ever."
—Pat Gelsinger
CEO of VMware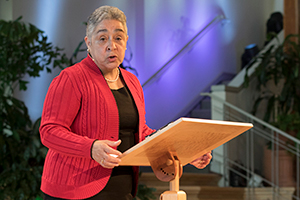 "Fuller's educational ministry centers not only on academic excellence but also obedient discipleship, evident in the ways its programs and centers engage with issues pertinent to the church, culture, and society. What's more, because of its commitment to God's kingdom, Fuller relates to younger and smaller seminaries from around the world with both generosity and humility."
–Elizabeth Sendek
President, Biblical Seminary of Colombia
Medellin, Colombia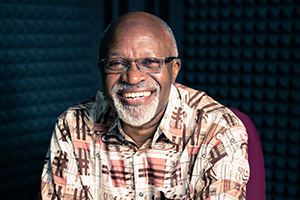 "Fuller continues to be top on the list of seminaries of choice for quality, thoughtful, Christ-centered, transformational leadership and ministerial formation for those of us from the Global South. This is evidenced in the quality of its alumni as they lead and serve in diverse churches and institutions around the world, something I have seen firsthand as I have served with some in my life and work in Africa. Fuller has a track record of being both locally and globally engaged, and I am gratified to see intentional efforts to remain on the cutting edge: walking the talk of being evangelically inclusive, not being afraid to ask hard questions, pushing boundaries, and exploring new ideas. I thank God for Fuller!
—Bishop Zac Niringiye

Sign Up for Updates
Share your thoughts with us here, and sign up for updates about Fuller's future.
FULLER studio
The FULLER studio website curates and provides a wealth of resources for churches, communities, small groups, and individuals who want to deepen their spiritual formation. Drawn from the scholarship of Fuller's faculty and broader seminary community, the videos, podcasts, articles, and other resources on FULLER studio are offered freely to all. Explore the site.
Online Education
Fuller now offers fully online options for nearly all nonclinical master's degree programs, for those who want to remain embedded in their home and ministry contexts while they study. This new flexibility allows students to study entirely online, entirely on campus, or through a combination of online and on-campus courses that best meets their needs. Learn more.
A Vision to Transform the Seminary Experience
With Brehm Center Director Mako Fujimura, Mark Labberton discusses Fuller's vision to transform the seminary experience
Creating Beauty in Exile
Dr. Labberton reflects on what it means to live a faithful life in a culture shaped by fear and violence